BAMB – Buildings as Material Banks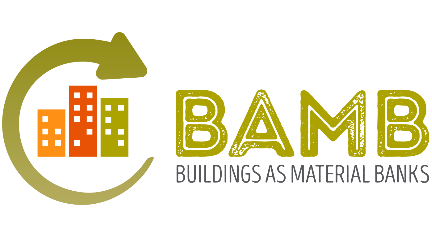 Project duration
09/2015 – 10/2018
Funding organization
European Commission (EU) - Horizon 2020
Project Partners
Brussels Environment
EPEA Nederland
VBU – Vrije Universiteit Brussel
BRE – Building Research Establishment
ZUYD – Zuyd Hogeschool
IBM
SundaHus Ronneby Kommun
TUM – Technische Universität München
Universiteit Twente University of Minho (UMinho)
Sarajevo Green Design Bienale
Drees & Sommer
Vito
Bam
Aurubis
Summary
The Technical University of Munich (TUM), represented by the Institute of Energy Efficient and Sustainable Design and Building, is one of the partners of a project bringing together 16 European companies, research institutes and universities that will develop, and test in practice, a Materials Passport for new and converted buildings over the next three years.
The United Nations estimates that the buildings and construction sector accounts for 50% of resource consumption and 60% of waste generation in Europe. The aim of the EU's BAMB (Buildings as Material Banks) research project is to put a stop to this. The total budget for the project is 10 million euros. The valuable materials accruing at the end of a building's lifecycle have so far been recycled according to poor standards or ended up in landfills. The Materials Passport eliminates the concept of waste. It contributes to integrating recyclable building materials as early as the design stage, upcycling them after demolition and reusing them as construction materials meeting the same quality standards. The Materials Passport thus creates the transparency that is needed to implement a circular economy in the real estate sector. Furthermore, it documents the supplier of the product or raw material. As a result, buildings are transformed into reusable feedstock and can be flexibly converted and dismantled while in operation. Drees & Sommer and EPEA are the only German companies besides the Technical University of Munich that contribute practical knowledge and experience from initial cradle-to-cradle projects.
The research project is comprised of two parts: Building a BIM-capable (Building-Information-Modelling capable) system and database for the electronic Materials Passport and advancing reversible building design. BAMB thereby aims to prevent construction waste and reduce consumption of natural resources. The Material Passports contain electronic documentation of all construction materials enabling subsequent integration into BIM systems. This includes information on whether they are free from pollutants and whether they can be reused or recycled.
Related links
Project team
Prof. Dr.-Ing Werner Lang
Matthias Heinrich M.Sc